From 29th – 31st of October 2018 MILIPOL saw BQ Solutions QSTP-LLC firmly embedded in the Barzan Holdings family and the shared space gave an excellent platform to continue to grow these relationships. This theme of relationships was our focus for MILIPOL 2018. We increased our meeting spaces to include both private and public areas to enhance the visitor experience.
During the event, BQ Solutions and Barzan Holdings were delighted to sign three Memorandums of Understanding for new projects. We are very proud of our successes.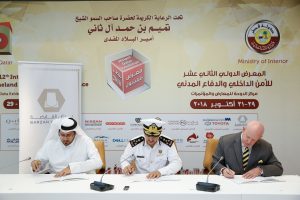 A biennial event, MILIPOL Qatar attracts to Doha the biggest companies from around the World in the security and police sectors. These companies showcased the latest products and service innovations in the fields of security, safety, detection and prevention equipment and systems. The importance of this event to Doha was underlined as His Highness Emir Sheikh Tamim bin Hamad al-Thani and His Excellency the Prime Minister both attended
Founded in 1996, MILIPOL Qatar is a trade event dedicated to homeland security founded and organized by the Ministry of Interior of the State of Qatar and the French-based Comexposium Security.
From 2018, MILIPOL Qatar incorporated the Civil Defense Conference and Exhibition, to become the Global Security and Safety Event.
For more than 30 years, the MILIPOL brand has been synonymous with high quality, international events covering the field of homeland security. It has been proudly represented by MILIPOL Paris and MILIPOL Qatar and more recently MILIPOL Asia-Pacific.
This effectively creates the world's leading international network of events dedicated to solutions, technologies and innovations for homeland security.