Emir Visit to Tech 4, Qatar Science and Technology Park 2018
BQ Solutions was honored to be invited to take part in a visit by His Highness the Emir Sheikh Tamim bin Hamad al-Thani to 'Tech 4' to the Qatar Science and Technology Park. Our main aim is to 'assure operational and commercial advantage for Qatar' and one route is via research and development. A number of exciting and informative presentations were designed that showcased the capabilities of BQ Solutions.
We were obviously pleased to make the front page of The Pensinsula newspaper the following day. Another successful event for BQ Solutions.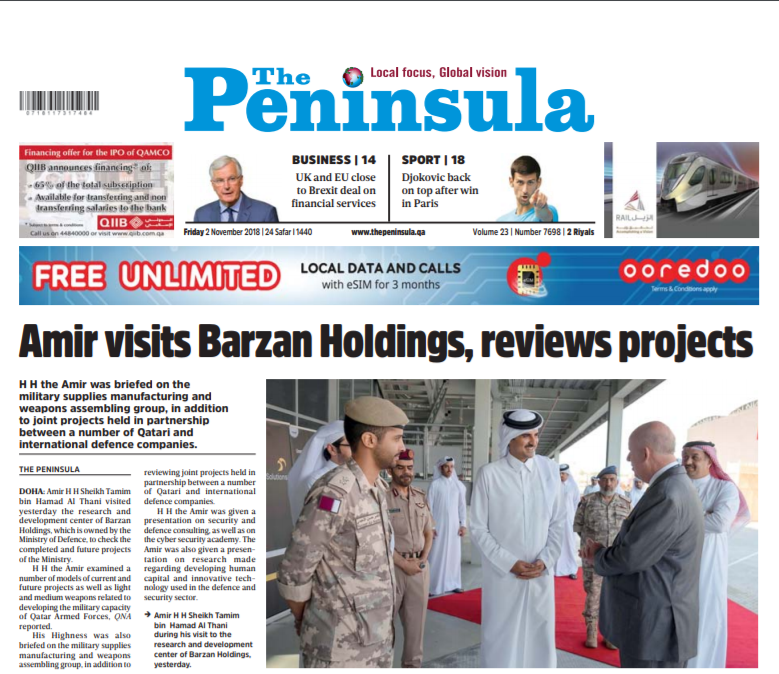 Our team, in conjunction with Barzan Holdings, had the wonderful dilemma of starting from a very empty to room to design a visually exciting experience for our important visitor.
About Qatar Science & Technology Park (QSTP)
Qatar Science & Technology Park (QSTP), part of Qatar Foundation Research, Development, and Innovation (QF RDI), is a Free Zone and Qatar's premier hub for applied research, technology innovation, incubation, and entrepreneurship. QSTP fosters a vibrant ecosystem that facilitates the development of new high-tech products and services, supports the commercialization of market-ready technologies, and offers state-of-the-art offices and facilities specifically designed for tech-based companies.
Located in Qatar Foundation's Education City, QSTP has access to a cluster of leading universities and research centers. Members of QSTP's Free Zone – including international corporations, SMEs, and research institutions – are collectively committed to investing in new technology development programs, creating intellectual property, enhancing technology management skills, and developing innovative new products.